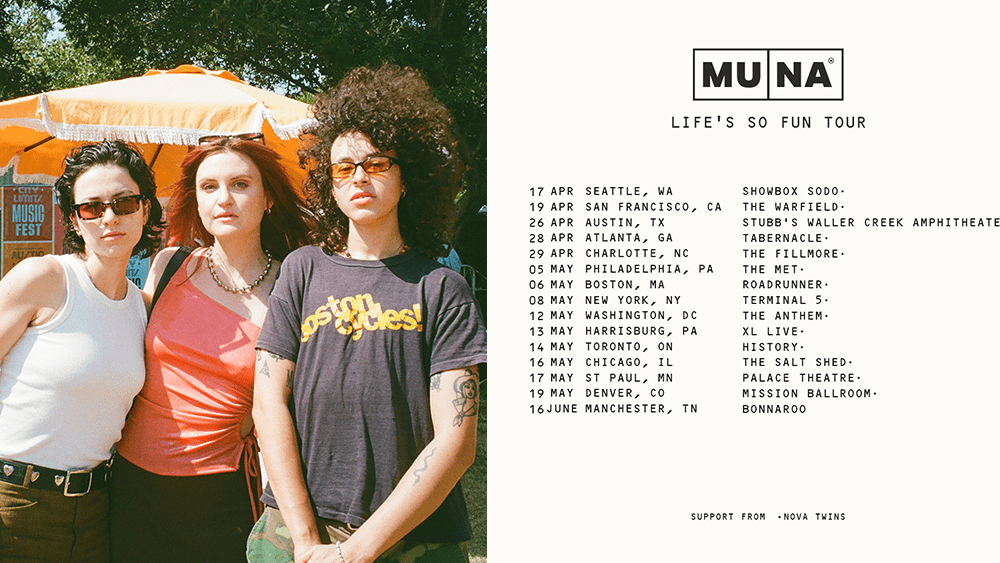 MUNA sets up a huge year of touring, live music and big festival appearances!
American rising-pop band, MUNA, consisting of lead singer Katie Gavin, guitarist Josette Maskin, and multi-talented Naomi McPherson are setting up a huge year.
Just announced was their "Life's So Fun Tour" with additions the Nova Twins, kicking off April 17th in Seattle. They have shows lined up in Austin, San Francisco, Atlanta, Philadelphia, New York, Washington DC, Toronto, and Chicago.
Not to mention their inclusion at 2023 Music Fest Coachella and Bonnaroo.
back at it again except this time, two of us are 30. the implications of this cannot be understated. support from the great @NovaTwinsMusic. pre-sale starts tomorrow at 10am local. sign up for the pre-sale code here https://t.co/x0KaF8ulMR

general on sale friday at 10am local❤️‍🔥 pic.twitter.com/vVSKpm3fbI

— MUNA (@whereisMUNA) January 10, 2023
MUNA has previously announced their shows as an opener for Taylor Swift's 'Eras Tour' and their inclusion in Lorde's tour taking place this spring, on the other side of the world!
Set for a huge 2023, we wish MUNA luck and reminisce on the shows we saw here in Austin for SXSW and ACL Fest.
for those who were wondering why there wasn't an la show on our tour….it's bc we're also playing @coachella. see you there. pic.twitter.com/3WJzjBw2eV

— MUNA (@whereisMUNA) January 10, 2023